Does your dog enjoy your pool too?
Is your pool well loved by all the members of your family? Even the four-legged ones?
Some dogs are natural swimmers and L-O-V-E getting in the pool. Dog breeds, such as Labrador Retrievers, Newfoundland Retrievers, Chesapeake Bay Retrievers, Portuguese Water Dogs, and Golden Retrievers even have webbed feet which help them be more proficient swimmers. Cat lovers—you may already know this, but there are even some cats that enjoy a good swim too!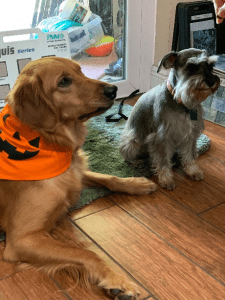 At Advanced Pool & Spa, we are animal lovers and even have two dogs in our office daily! Daisy is a two-and-a-half-year-old Miniature Schnauzer. Gracie is an eighteen-month-old Golden Retriever. Daisy is not a huge fan of the water, but loves being around her family poolside. Gracie, on the other hand, loves the water so much, it is hard to keep her out of it (in fact, she was caught trying to swim in the bird bath at her first Thanksgiving)!
Here are the top five things to consider if your furry friends are enjoying your pool with you!
The average size dog is equivalent to approximately three people in terms of the load on your sanitation system. That means, if your furry friends are regular swimmers in your pool, you should be testing your chemicals more frequently to make sure you are maintaining the proper balance. Any dirt, fecal matter, and bacteria that may be on their fur will end up in the water, so it is important to stay diligent with testing your water.
If your dog is a big shedder (like our sweet Gracie) that hair will be in your pool so it will be important to regularly clean your filter or even change your filter out to a large capacity filter, if possible!
Your dog's skin is very similar to yours. That is—just as people's skins can become irritated from the chlorine and chemicals in your pool, your dog's skin might too. It is important to rinse your fur-baby off after they've been in the pool.
Not all dogs are fond of water (or swimmers). Be sure to take extra precautions to keep your dog safe. Some dogs may need, or would be more comfortable with, a life jacket to help keep them afloat. Some dogs are not able to swim at all and pool owners need to be cautious to keep their dogs from accidentally falling into the pool.
Dogs often have very sharp nails too, so it is important for the safety of your dog and the people who would be swimming with your dog, to make sure that your dog's nails are properly trimmed to prevent scratches (we do not recommend your dog swimming in a vinyl liner pool for this reason too)!
And, here are three things to consider if you are remodeling your swimming pool that would make the pool even more enjoyable for you and your dog!
Your pool entry/exit. Your dog may be more likely to give swimming in your pool a try if they don't literally have to take the plunge to do so. Beach entries are very popular for dogs because they create a more natural feeling, like how it would be entering a lake or an ocean, for your dog.
Dogs need rest too and they can't hold onto the wall like you! Consider whether there are swim outs or sun shelves, or other places in your pool where your dog can take a rest if they need!
If you have a puppy, an older dog, or a dog that cannot swim, consider adding a baby fence around your pool to prevent them from accidentally falling in. Our dogs are like children, so it is important to always supervise them when they are around the pool and it is important to take whatever precautions you can!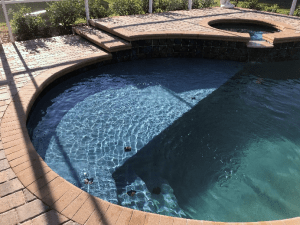 Finally, here are a few extra things to keep in mind if your dog enjoys your pool with you: make sure to always supervise them when they are swimming; take extra precautions if your dog is swimming with children or the elderly to prevent your dog from scratching them; and be sensitive to your dog's comfort level—swimming is supposed to be fun and if your dog doesn't enjoy it and you force them to swim, it could scare them from getting in the pool again in the future.
If you are considering remodeling or refinishing your swimming pool, please give Advanced Pool & Spa, Inc. a call. We have been in business for 35 years and have the experience to assist you in making your pool beautiful and enjoyable for the whole family! Please be sure to follow us on Facebook and on Instagram (@advancedpools.fl) to see some of our work and to see more of Daisy and Gracie!