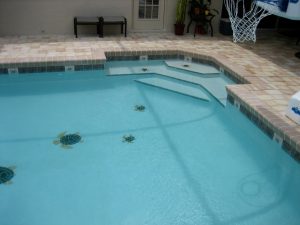 Today's pool owners have a wide choice of interior finishes when remodeling a pool. The right swimming pool finish will make all the difference in the appearance of your pool. A high-quality finish will also affect the durability of your pool investment. Here at Advanced Pool & Spa we offer many choices in pool finishes, and they vary in appearance, durability and budget. With just the right surface, it's possible to turn an ordinary pool into a virtual work of art. Check out these options in swimming pool finishes that we offer to determine which one will work the best for your backyard pool.
Quartz
Standard Quartz plaster like the Marquis Quartz http://pmmproducts.com/ is one pool surface finish. Marquis Quartz plaster has been around a long time and it remains a popular choice. It is simply a combination of white cement, marble aggregate, and water and that makes for an economical choice that will give you that classic swimming pool look. Many prefer this finish because when filled with water, pools surfaced in white plaster create a brilliant, clean, light blue appearance that is smooth to the touch. It also remains the most affordable pool finish product on the market today. Marquis Quartz plaster is a reliable product when installed by a quality contractor like Advanced Pool & Spa and properly maintained by the homeowner. However, it's important to know that plaster is susceptible to all water conditions especially from attacks of improperly maintained chemical conditions. Therefore, it is only reasonable to expect that during the life of the product, it will change in appearance. These changes may be subtle or minor, perhaps slight shading or scaling, or far more dramatic in the form of pronounced staining, etching, cracking, or delaminating in extreme cases.
By its nature, colored plaster will accentuate all of the characteristics normally found in white plaster. Mottling, for example, can be more pronounced in colored plaster than in white. Colored plaster may also exhibit pigment stains, streaks, unevenness of color and more noticeable checking and crazing. Also, variations of shade will exist between color sample chips and mixed plaster. Over time, the color may fade completely or grow gradually lighter and will often not be the precise shade that was anticipated. It's important to note that none of these conditions are considered a deficiency of the product.
Read More