Anti-Entrapment Devices that Should be in Every Pool
Pool safety is a HUGELY important issue for all pool owners.
In 2007, the Virginia Graeme Baker Pool and Spa Safety Act ("VGBA") became law. This Federal law mandates that all suction ports and drains in a pool must have approved anti-entrapment covers that meet the standards established by law.
The objective of the VGBA was to improve the safety of private and public pools—specifically to reduce the occurrence of child drownings and the number of suction entrapment incidents, injuries, and fatalities. There was also a major push to educate the general public concerning the importance of supervising children in and around the pool.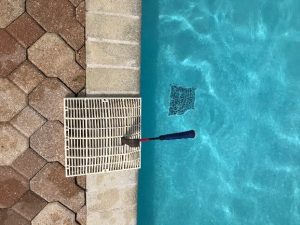 To further its objective, the VGBA requires that all pool/spa drain covers manufactured, distributed, or sold after December 2008 comply with ANSI (America National Standards Institute)/ASME (American Society of Mechanical Engineers) standards.  Public pool and spas must be retrofitted with drain covers that meet this requirement.
To be compliant, all the suction lines in the pool or spa must have dual ports and VGB compliant drain covers. Most older pools do not have dual ports on every suction line. For those older pools, there are
other steps the pool owner will need to take to enhance the safety of the pool, such as:
Splitting single ports into dual ports (the must be located at least 36" apart)
Disabling single suction ports by plugging them
Installing unblockable drain covers where single port suction lines are located (an "unblockable" drain is a drain that is too large and shaped in such a way that the human body cannot sufficiently block it to create an entrapment hazard)
Installing a vacuum release system on each pump with single port suction
Even where a pool is compliant, a pool owner can take these steps for extra precaution.
Safety is priority for us at Advanced Pool & Spa. In the past, we have experienced homeowners tampering with their VGB safety drain covers because automatic pool cleaners cannot navigate the covers or for other reasons. It is crucial for the safety of those in your pool or spa that you do not tamper with these drain covers and other anti-entrapment devices. Advanced Pool & Spa performs both commercial and residential pool and spa remodeling and refinishing and can check to see whether your pool and spa are VGB compliant. If your pool isn't VGB compliant, we can help you enhance the safety of your pool for all.
It's also important to remember one of the biggest keys to pool safety for kids is supervision. Whether you choose Advance Pool & Spa for your refinishing and remodeling or not, we care about your safety and the safety of all those in your pool.
Be safe, and happy swimming!
*This article is summary in nature and should be used for informational purposes only. This article is not intended to be used to ensure compliance with the Virginia Graeme Baker Act, state, or local laws.